"Help your new puppy adjust to their new home by setting clear structure and expectation now and not in six months when it's a habit!"
Adopting a grown dog or a puppy for Christmas can be one of the most exciting Christmas gifts one can give. Read on for some advice to set your family and your new companion up for success!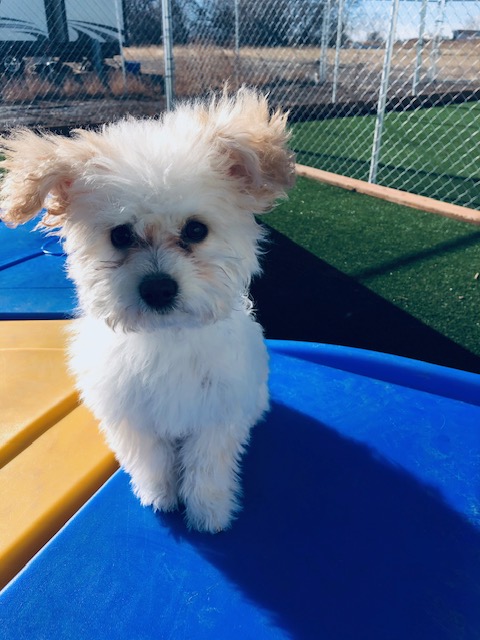 Whether you brought home a puppy or a rescue, my advice remains the same. If you wouldn't want your dog to do a behavior in six months, don't let them do it when you bring them home! Have a family meeting and decide what rules you want in place and enforce them from day one. Your new pup will thank you! Remember, there is no wrong answer here. Find what works for you and your family.
The biggest behavioral offender I'm referencing here is the jumping habit. I know it's cute when your little puppy jumps up on your lap and wants your attention. Believe me, I know it's cute. I struggle with restraining myself more than anyone! Just think about whether you'll want a full-grown version of that behavior in six months! It's very easy to set boundaries and structure from the beginning, but it's much more difficult to change behaviors when habits have already been formed.
Anyone who has been out to Dog's Den has very likely met Fafnir. Fafnir is one of my personal dogs and he is an Irish Wolfhound and Great Dane mix. Like all puppies, he was so cute you could hardly stand it, and like all puppies, he did want to jump up for attention. Even though it was the cutest thing I had ever seen, I had to set the boundary from day one and not give him any attention when he jumped up on me and only give attention when he sat calmly for it. Yes, they can learn that from the day you bring them home.
I knew Fafnir would eventually grow to the huge 140-pound beast he is today, so having that structure from day one set us up for the success we enjoy today. He never jumps. It's just not in him to do so. He greets people calmly because that's what we expected from day one. Fafnir greets attention and affection with calm because that's how he was able to obtain attention and affection when he was a pup.
If you were lucky enough to grow your family with a new canine companion this Christmas, I'm so excited for the journey you are embarking on with your new dog. Help them adjust to their new home by setting clear structure and expectation now and not in six months when it's a habit!